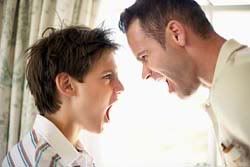 Free society thrives on debate. If debate is not free and open there can be no freedom of speech and thus no free society. But to have debate one must have two sides which are allowed to present their reasoning freely and fairly. If one side just dogmatically refuses to ever accept the evidence of the other side, there is no debate. Dialog can be extremely helpful and it is necessary to maintain a free society. But when debate is impossible then dialog is impossible. More than hate, what has contributed to the shutting down message board debate is ignorance, and a stubborn insistence that no matter what the other side says, their evidence must be doubted at all costs. This means their is no free and fair debate at least concerning religion on the net.
The fault is not that of atheists alone, but atheists turn a blind eye to their own culpability. They turned the focus of my message about hate groups into a name calling thing, and refused to listen to the warning, but chose to become offended and see it as a mere pissing contest. Don't even bother sending in messages about how "Christians do this too." I know they do. I know there is a lot of ignorance in the Christian camp. I had a whole blog about that, but the atheists wouldn't support it.
This is about the atheist contribution to ignorance. There are certain issues about which the atheists as a general body have just decided they will simply ignore the facts and continue to assert bull shit. Now, come on, there are such issues of which the Christians refuse to face facts too. I know that there are Christians who just refuse to listen on evolution, problems in biblical texts, and other matters of science which can be easily documented. But there are matters upon which the atheist community as a whole is either condoning the ignorance, or just does nothing to stop it.
these are not things that one sees now and then. They dismissed the hate group challenge on the basis that "yea it's one or two atheists somewhere out there." But these misconceptions are found on every message board, every single day on the net. In fact its a social fad. Teenagers are told it's what the cool people want you to believe. It's become socially mandatory in school, you have to slander Christianity on pain of coolness! It's a fad, and it's based upon ignorance.
Here are some of those issues:
(1) Gainsaying evidence.
I am holding a pissing contest with a guy now on Christiansrus. I would say "debating" but there is no debate going on. I have 300 studies, he has 0, he asserts I have proven nothing. No I have proven that religion is good for you because I have 300 studies that prove it. This guy has demonstrated many angels for denying what is clearly stated by 300 operate empirical studies. Of course he denies the studies are any good. this guy doesn't even give a reason, he just says "they are no good." He has no studies but goes on asserting "you have proven nothing." No that's not how debate works. When you document what you argue with empirical studies, it is proved until you prove the studies are no good or don't apply. On an EZBoard some guy asserted those are all just Christian pastors asking their flock to email him and tell him how happy they are. I quoted, cut and paste, twelve pages, (counting by single space word program) of these quotes; social scientists at secular universities such as Abraham Maslow (major famous figure, hierarchy of need guy) they weren't emailing and saying they are happy, they did scientifically designed surveys and studies which were carried under the same conditions that any other social science research is carried out. But "I refuse to believe it. it cannot be true, therefore it is not true, therefore it doesn't count."
I put forth my version of the anthropic argument and I quoted four major physcists, two or three of them were atheists. One was Paul Davies, who at one time was a major atheist and very popular with all the Godless crowd for his
God And the New Physics.
But now he's a theist of sorts, or at least a deist and argues he anthropic thing. Of course the atheists dropped him like a hot rock. He used to be a major smart guy of science, now he's an idiot. They will call him an idiot. they will call him a fundie (even though he's not actually a Christian) and say he doesn't know anything even though he's won major awards. One of the physicists I quoted was Andre Lynde. He's an atheist and major physicists and invetor of one of the first inflationary theories. He says some things that are very helpful to the anthropic argument. This same guy, Quantir, says "prove that he knows that." Well he's a major physicist an expert, "that's appeal to authority." So they have expert opinion dismissed as appeal to authority. that is crap because there is no fallacy called "quoting experts is a fallacy." Doesn't happen. The fallacy about appeal to authority is appeal
improper
authority! No logic book on earth says it's a fallacy to quote from authorities.
But this guy argues "prove he knows anything." They gave him the science awards for being an idiot right? "Now that we have dispensed with the Nobel Prize, the award for idiot of the year goes to Paul Davies." As for Andre Lynde I said he's quoting empirical research. The issue is that the stars are moving away from point 0 in evenly spaced intervals in all directions, no one can account for this. He says how do they know that? Well astronomical observation the Doppler shift and all that. He says prove that proves anything. Then he wants me to go over the mathematical equations on the anthropic stuff and proven they really prove that the universe is improbable. Well you have four major physicists saying it, you have no counter evidence, that should be enough. NO, not for him. he's just going to deny the facts as long he lives no matter who says it. of course I'm sure if Dawkins said something he wants to believe that would be good enough for him. When it gets to the point where four experts in agreement with studies to back them vs 0 evidence is not enough then there is no debate and no possibility of debate. This is gain saying the evidence.
(2) Gainsaying Theological expertise.
At some point the atheist community just up and decided they would never accept the word of any theological person regardless of his position or what he was commenting upon. I have seen them carry this to the extreme of denying that major theological and Bible scholars are experts even in the area of their expertise. It means absolutely nothing to them that someone has a Ph.D. from a world class university, vs. someone who has no graduate training in the field and doesn't know the languages.Means nothing at all. They will accept Doherty's "expertise" over that of the major scholars in the field, event though Doherty has no Ph.D. is not trained in Biblical studies and does not read the text in the original language. That just doesn't matter. I've seen atheist just dogmatically say "no religious person can have any kind of expertise." They just refused to believe a scholar because he was a priest. Even though he's recognized as a world class scholar in his field. This is nothing more than sticking their fingers in their ears and shutting their eyes real tight and shouting "lalalalal I will not listen! lalalalala" I can understand refusing to take a theologians word for scientific matters. I can even understand, although am still outraged at refusal to take William Lane Craig's word on cosmology on the grounds that he's not a scientist. But these guys are denying recogized scholars who are imminent in their field, and their field is theology. It's a theological matter they are being quoted on.
(3) Jesus myth.
I realize this is a special group within atheism. I realize that most atheists may not agree with the Jesus myth thing. But it continues to hang over the net casting a Pall on all discussions related to Jesus. Its' nothing more than a sheer dogmatic refusal to accept facts. First, they are bucking the whole historical establishment. Not one single major historian anywhere, even mediocre ones who agree. The only academics I've seen who do are lit crit guys and they will say anything. But they show absolutely no regard for historians or the way history is done. They have just dogmatically decided they have to be right and they value the analysis of non experts over experts.
Secondly, thier basic premise is a lie. The basic premise is "there's no evidence that Jesus every existed." I have seen them say just that phrase many many times. But they do not understand what historical evidence is. They are counting as "evidence" something like being on the six o'clock news. When one provides a host of evidence that Jesus existed, then they just say "none of that was contemporary." By contemporary they mean up to the minute, ti's on the new tonight. The guys is standing here writing at the momement "there is Jesus over there. I see him walking around as I write." But of course they do actually have that, but they wont accept it because they can't. It's blows their world view.
The first thing they did by the use of fallacy no 1 above, gain say the evidence, was just to shut down any reference to the Gospels at all. The gospels might as well not even exist. Their reasons for thinking the Gospels are so inauthentic they can't be used for anything, not even to show what Christians believed, is so circular and stupid it doesn't bear going into. Its' basically this, The Gospels have miracles in them and that makes them stupid so they must be wrong. They also offer a lot of bull shit about they weren't written by eye witnesses and all that sort of thing. All of that is so debatable. Christians can always make good cases for authorship but they got tiered of having no answers so they jsut decided to make a king's x. Those answers don't count and we just wont becasue we refuse to ever believe under any circumstances.
Of course they can only pull this off by their sue of fallacy no 1 above.The myther standard for proving the historicity of a person is totally out of sinc with that used by historians. Historians allow ancient historians as authorizes and will appeal to them for proof on matters a hundred or two hundred years after the writing. That's what historians do, they write history, not the evening news. Historians believe that Pilate existed. They didn't used to but they found two mentions and that's all it took just two to make Pilate real. But even though there are about twelves mentions for Jesus (extra biblical non Christian) those don't count for anything. All historians accept them, that's just appeal to authority.
What's really funny and instructive is what happened with the atheist fascination for John Dominick Crosson. Thoughtout the 90's up to about 2004 Crosson was the darling fo the atheists. Atheists would say to me "Crosson disproves the whole bible he says it's a pack of lies." I recall atheists saying just that thing. Of course Crosson would never say that. He was their hero. They quoted him all the time. Urbild and I began pointing that he had his own faith and he believed. His stock when down somewhat. Then Corsson himself was quoted in a published lecture saying that Doherty didn't know what he was talking about. He said that the Gospels are evidence a prori that Jesus existed. The fact that the people who wrote them are talking about Jesus as flesh and blood man in history proves that they believed that, and there's no reason to doubt it. They dropped him like a hot rock. Just like Davies, overnight he became a total idiot. Now I've seen atheists call him "fundie!" He is the arche liberal! He helped start the Jesus seminar! But suddenly that doesn't count in his favor anymore, now he's an idiot because he thinks he knows more than Doherty.
So it comes to be that the best evidence for something is none at all, and the best credentials are none at all. The best studies are none at all.
Free and fair debate cannot continue. This must change. ignorance rules. this is intolerable! There is no point in wasting one's time debating with people who haven't the slightest intention of debating fairly.
I know there are atheists who are not like this, even though it is the vast majority who are. At least, the vast majority of those who post on message boards. But this is not happening on my boards. My boards are nice. Everyone likes them and we have brilliant deep friendly discussions and no insults! I do not tolerate trolls or people who come there to ridicule or harass or feel superior to Christians. But we have a great time it's the best boards on the net.
I am serious, I have never found any other boards like these. The atheists who post there are intelligent and sharp and they are my friends.
important pages of interest concerning topics above.
Mytholgoical Jesus: answering the Jesus myth bull shit
Historical Jesus pages. a vast aray of proof Jesus existed
My anthropic arugment
Doxa Forums, the most ejoyable discussion Christians and atheists can have on the net.