Borg with three students
I first wrote this reveiw in 2010. This summer of 2014 I'm re-viewing all my favorite films for the summer. So I saw this one last night (today is friday the 13).
Derek Malcolm, writing for t
he Guardian UK
(Thursday 10 June 1999 19.36 BST )
"The film I constantly go back to, however, is Wild Strawberries (1957), which, while scarcely a bag of laughs, has a compassionate view of life that best illustrates the more optimistic side of Bergman's puzzled humanity." I agree with Malcolm, I also go back to "Wild strawberries," (
Smultronstalliet
) again and again. In fact at one time I saw it as tying my favorite film of all times bar none, to two films equally loved, both by Bergman, "The Seventh Seal," and this one. It is not a bag of laughs but it does have a side of humor and though its about an old man at the end of his life it has a hopeful tone that looks to the future. It's not a heavy theologically oriented film but it even has it's God-conscious side. Bergman, though an atheist, could not let go of the idea of God, it has too many cogent connections to art and thought and life.
Realesed in 1957 This was one of Bergman's earliest successes, just on the heels of his original break out film, "Smiles of a Summer Night." The film centers around an old man,
Victor Sjöström ... Dr. Isak Borg who is at the end of his life, he's a great immanent medical researcher, still admired and loved by the populace he once tended as a country doctor, about to receive an honorary degree form a major university to crown his life time achievements. He is a crotchety old man who hides guilt, anger and aggression behind a vernier of old world charm. He has a old married couple sort of relationship with his manipulative managing house keeper, who wheedles and flatters him as she dotes on his greatness and practically worships him, but treats him like a child to do what's best for him. He has a bad relationship with his son,(Gunar Björnstrand--the squire in "the Seventh Seal") Dr. Evald Borg dividing over a loan he gave his son years ago and has never been paid back, the father doesn't have the grace to forgive the debt, spouting all sorts of pious nonsense about responsibility and morality. the son is middle ages, the father is almost 80 and the debt still divides them. Victor Sjöström who plays the old man was, in his youth, one of the early stars of Swedish silent film. He helped to establish silent film in Sweden, and was said to have been handsomest man in Sweden. At the time this film was made he was very old looking.
The film is really about Berman's relationship with his parents. That's played out through the relationship of Dr. Borg with is entire family. The themes of the film are the loneliness that besets us when we close ourselves off from hurt by become cold toward others and toward human relationships in general. Not reduce Bergman to simplicity but it's kind of like John Lennon wrote "it's a fool who plays it cool by making his world a little colder" (--"Hey Jude"). The film open withe the doctor explaining who he is, we see pictures of his family including his son, Evald. His mother is still alive even though he's 78. He's talking about death and loneliness.
The old Doctor decides to drive to the University, to the alarm of his Housekeeper. But his doubter in law (Marriane Borg), played by Ingrid Thulin, just happens to be staying with him. She's left her husband but asks for a ride with him to the university, where she lived with her husband. So this film is a road trip with an old man and his daughter-in-law. An American film would pit Steve Martin and Jeniffer Lopez and they would talk about nothing and wind up destroying buildings having car chases. In this film, however, these two literally do nothing more than talk about what I'm sure appears to be "nothing" to most Americans, but actually invovles the most important things in life. The old man has had a disturbing dream, but the young woman doesn't want to hear it. She frankly tells him she doesn't like him because he hides cruelty behind his mask of old world charm, yet the two remain good matured. The film is full of dreams. Although in that conversation she tells him his son hates him because he is cold and closed off. This knowledge clearly wounds him but he retreats even deeper. The first dream was about the man walking down empty streets of a small European village (shot in old Stockholm very early in the morning so there would no one on the street). A hearse driven by horses dumps a coffin and a hand falls out of the ajar lid. The man goes near, the hand grabs him and pulls him close, the face peers out from the coffin, it's him! The man is dead and in his coffin and pulling himself toward the coffin. This dream sequence is shot in a glaring black and white that could not be done in color. It's a tribute to German silent film, loaded dream symbols and angst.
The two stop to examine a house on a lake where the old man spent many a happy summer as a child. The house is deserted and not owned by the family anymore, but the two wander about for a while looking. Sitting by himself the old man suddenly sees the house as it was and his brothers and sisters, children in old fashioned turn of the century clothes, run out of the house pursuing all manner of summer activities. He watches a scene between his cousin Sara and his brother, who we learn latter married and were still living but old in this current time 0f 1957. Dr. Borg wanders into the house and stands observing scenes of family life but the characters don't see him. We learn from this that that he was afraid to act on his feelings, he loved Sara but let her marry his brother (presumably they were third cousins) because he was stand offish. It's in this dream-like interlude with his childhood that we see the point of the title, his cousin Sara who he wants to marry is picking wild strawberries when his memory conjures up a picture of her beauty in youth. He plays in his mind a scene between her and his brother latter has such a scene with her. He is old and she is young she tells him she will marry the brother. He talks about how it hurts, we see this is the first daunting disappointment in relationship that hurt him and caused himself to close off to human relationships.
At this point they meet three young people who are hitch hiking to the University. The three are a hilarious trio, a theology student, a secular student of some kid who of course has it in for religion in the faddish way that students of the 60s hated everything established, and a girl who the two fight over the whole trip. They have a few little runs at discussing God. The Marxist student is shallow and can only think in Marxist cliches he doesn't see that the Doctor is trying to hint that God is too important and too grand a concept to dismiss outright. One of my favorite scenes in the film. he two students come to blows. They go off to fight in the woods. Their fighting looks like two beached whales trying to push off each other to get unbeached. They get back in the car, one has a black eye. The girl sits in the middle she turns to the theology student and says "so, does God exist?"
That kind of reminds me of my partcipation on message baords. Along their way after they meet the kids they almost have a wreck with a small VW bug. The married couple in the bug are friendly at first and happy to be saved and given a ride, willing to admit the almost wreck was their fault (their car winds up upside down but the Doctor's old car is fine). But the two can't stop fighting. Subtle at first then ridiculous. They wind up being put out of the car when the woman begins slapping the husband and has to be restrained by the kids because she can't stop hitting him.
While the fight was ensuing the old man and his daughter-in-law have had a very important discussion sitting in the car and he went to sleep and has the seminal dream of the film. The discussion revealed that the woman left the doctor's son because he's just like his father, cruel, demanding, cold, unfeeling. The woman is pregnant and wants the child the father categorically does not want children and refuses to continue the marriage if they have them. At a time when abortion was unthinkable in America these guys argue about that option as though they were discussing painting the din, because they are in Sweden. But the woman wants the child, she wants to have a family is going back to make one last hopeless stab and reconciling.
The dream that Dr. Borg has while asleep in the car has him ushered into the family summer house they had previously been to, but this time it was empty, dark and foreboding. The Doctor is ushered into the house by the husband who was put out of the car. In this dream, however, he's a proctor giving the old man a test as though he was again at university. Inside the family home is a long dark corridor that was not there before it leads to a very old fashioned looking lecture room in which the old man is given an examination as one might receive at University at the turn of the century. He has to look in a microscope and identify the specimen. He claims something is wrong with the microscope because all he can see looking in is his own eye. The Proctor says there's nothing wrong with it. Then he is to examine a young woman and say what's wrong with her. He finds that the woman is dead, but she suddenly bursts into laughter. The Proctor tells him he's been found incompetent. He is then told that he has been charged with being guilty. Grim looking students in the gallery watch and don't crack a smile despite the old man's attempts at humor. Finally he is lead to another room and when they go through the door they are outside.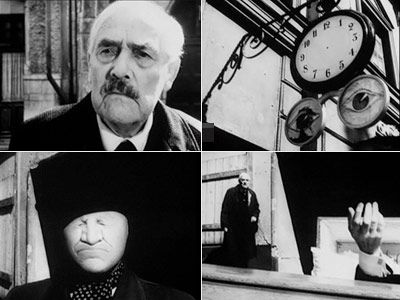 Dr. Borg's first dream sequence
[1]
He stands on the edge of a glad in which his wife (now long dead) and another man play little kissy games and make love. The wife talks about how she will tell him about her day, the husband (Borg) will pretend that he's not angry and she's done wrong, but that she's to be pitied, she is sick and made a mistake. She hates him totally and utterly for this high and mighty attitude and his refusal to become angry even though she sleeps with other men. The Proctor observes that with most men who are gazing upon an image of their long dead wives, they have a fading image of a saintly woman, but this guy remembers vividly this this scene of adultery.This is the seminal event that made him so closed off he's even alienated from relationship with himself (thus he can't recognize himself in the microscope).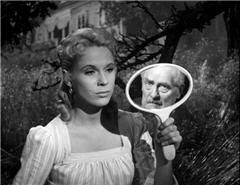 Day Dream sequence between Sara and old Dr. Borg
Despite this seeming nightmare the film ends on a hopeful note as the old man seems to have learned. As he tells Marianne "it's as though my mind is trying to tell me things I can't face when I'm awake" The end of the film is hopeful and exudes a compassion toward the old man, human frailty in general and the young. The wind up at the University in Lund, he is seen taking the honors, and then back tot he house of his son for the night. The son and his wife are happy and seem in the process of reconciling. The son doesn't' seem to hate his father but is glad to see him. The old man tries to tell he has forgiven the debt the son wont hear of it. The three students wind up as friends cheering him on and as they say good by by singing to him as he watches them from the Balcony and waves goodby. They makes statements about how proud they are to know him. They had been popping up around corners even the ceremony for the award begins. The daughter-in-law tucks him in and there's a feeling of warmth and forgiving between them. "Wild Strawberries" is about a man facing himself, like the emblematic image of his own eye looking back at him in the microscope. He's forced to realize that he's allowed himself to be cut off from people and feelings to languish in guilt and for this reason does not forgive the debts of others. In the end he plunges into dream land where he is again in the summer house of his childhood surrounded by those he loved. In the first nostalgic sequence he could not find his parents, in this one he is reunited with them and though he's an old man they see him this time and they do not see anything strange that he's old, he fits right in as he should. In the final scene he's a boy again, with his family in a wonderful summer at the old summer house.
Bergman with
Victor Sjöström
from IMBd page:
Cast
(Cast overview, first billed only)