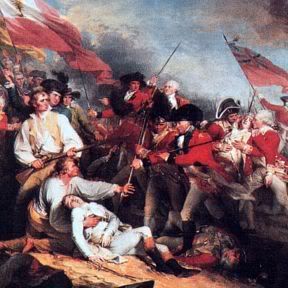 Wake up people! We have to face some hard realities here! the last two elections were stolen, IN 2004 over a million new voteres were just not allowed to vote. The decenting justice in the 2000 deicison that put Bush in the Whitehouse said the election was bieng stolen.
An article in
rolling stone
expounds up on the whole ugly mess.
This November, what happened to Maez will happen to hundreds of thousands of voters across the country. In state after state, Republican operatives — the party's elite commandos of bare-knuckle politics — are wielding new federal legislation to systematically disenfranchise Democrats. If this year's race is as close as the past two elections, the GOP's nationwide campaign could be large enough to determine the presidency in November. "I don't think the Democrats get it," says John Boyd, a voting-rights attorney in Albuquerque who has taken on the Republican Party for impeding access to the ballot. "All these new rules and games are turning voting into an obstacle course that could flip the vote to the GOP in half a dozen states."


Suppressing the vote has long been a cornerstone of the GOP's electoral strategy. Shortly before the election of Ronald Reagan in 1980, Paul Weyrich — a principal architect of today's Republican Party — scolded evangelicals who believed in democracy. "Many of our Christians have what I call the 'goo goo' syndrome — good government," said Weyrich, who co-founded Moral Majority with Jerry Falwell. "They want everybody to vote. I don't want everybody to vote. . . . As a matter of fact, our leverage in the elections quite candidly goes up as the voting populace goes down."

Today, Weyrich's vision has become a national reality. Since 2003, according to the U.S. Election Assistance Commission, at least 2.7 million new voters have had their applications to register rejected. In addition, at least 1.6 million votes were never counted in the 2004 election — and the commission's own data suggests that the real number could be twice as high. To purge registration rolls and discard ballots, partisan election officials used a wide range of pretexts, from "unreadability" to changes in a voter's signature. And this year, thanks to new provisions of the Help America Vote Act, the number of discounted votes could surge even higher.

Passed in 2002, HAVA was hailed by leaders in both parties as a reform designed to avoid a repeat of the 2000 debacle in Florida that threw the presidential election to the U.S. Supreme Court. The measure set standards for voting systems, created an independent commission to oversee elections, and ordered states to provide provisional ballots to voters whose eligibility is challenged at the polls
Election defense alliance
sounds the warning about a new house bill will make it easier for the Republicans to steal the election:
Senate Democrats and Republicans alike are now poised to pass H.R. 6304, known as the FISA Amendments Act of 2008, a bill touted by both House and Senate leaders to be a compromise proposal to prior Senate Bill 2248. Unfortunately, H.R. 6304 may give the Bush administration, in its last months, the ammunition it needs to hijack the 2008 presidential election.

It has been known for some time that, since 2001, the Bush administration has conducted mass surveillance of the email and telephone calls made by American citizens. All electronic messages passing through switches in the US, regardless of whether they were international or domestic communications, have been systematically intercepted and screened by the National Security Agency (NSA).

Technologies, which were installed at major hubs of telecommunication companies throughout the nation copy and deposit all electronic messages into a giant NSA computer network. The NSA then uses complex algorithms to parse through these messages using matching criteria such as key words, phone numbers, and dates, and linking these data to further data--anything from credit card and bank records to movie rentals.

H.R. 6304 does not, on the face of it, require that these complex algorithms that are used to parse through our electronic messages be examined and approved by a FISA Court. The role of the FISA Court seems to be limited to approving the general design of the software used in conducting acquisitions of information.

This consists of reviewing the authorizations made by the Attorney General and Director of National Intelligence to see if this general design satisfactorily conforms to "minimization procedures," that is, that they take reasonable precautions to avoid targeting American citizens. However, without access to the algorithm itself, as well as to the actual source code and a representative sampling of the data that ultimately get caught in its electronic net, there is no way to confirm that the actual proce
Go Vote!
Go Vote!
Go Vote!
see this source on Bush stealing electiosn