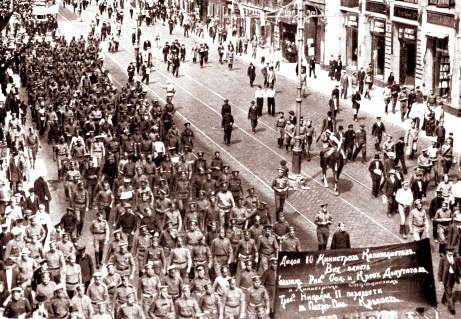 the Russian Revolution
I cannot understand how anyone could read my essay (the previous) in the mypotic fashion John and Larry seem have read my open letter. How could anyone read that well written essay, clearly from the heart, and obviously saying both sides can be dangers and can be right about different things, and conclude that I"m saying one side is better than the other? I even have a sentence in there speaking of one side trying to pull heaven down and causing Crystal Night (of course they don't catch the allusion, they are not literate enough to know what that is) the other side causing the killing fields. So clearly I'm saying both sides can have their massacres. That's why I can't say one side is right and the other is wrong. They are just illiterate enough and myopic enough to come out of that thinking I'm saying "atheists are always bad and Christians are always goooooooood!' Only an idiot would say that. why do you suppose I used Hick's the peaceable Kingdom as the graphic? Because I was saying "we can can get along." Guess not.
Then they have the gaul to s say "you don't know nut'n about hist-ur-eeee" duh! "It's real complex why Stalin killed people." So they are willing to obscure the atheist atrocities and explain away and justify them with this mastication of history "it's so complex." But of course they don't give any of the detials of this mysterious compleity. Now I am willing to bet I know far more about the Russian revolution than they will ever. I've read vast amounts of literature on it. I've read Trotsky's
History of the Russian Revolution.
I read Cruschev's Autobiography (he was in it as a very young man) and Cruschev also wrote something about the revolution from a historical perspective. I am willing to be they don't anything. I bet they can't tell me who Minchovicks were named after, without looking it up. Don't google it and come over here pretending like you knew it. I bet they don't know who Cruzchev was.
Do they obscure the Holocaust with this sort of answer? I bet not. I bet they are willing to say "O Hitler was a Christian and that's why he became a ma man. Christianity will drive you to this if you let it." For those who have a tiny modicum of brains and are able to realize that Hitler wasn't a Christian, they will say "Hitler was a mad man." I bet they don't say "O well it's so complex, you really can't understand it without going into a lot of history." Because that is the prelude to excusing it. Now of they didn't come anywhere near understanding the reason I gave. they say it's simplistic thinking. that's because they don't have the erudition to see what I'm really saying. I did not say Stalin was a mad man because he was an atheist. The reason I gave was
that political people (know how bad they are because I was a political person for years) values the ends of their project and their temporal power more than they valued the lives of individual people.
How could anyone deny this? Obviously that's true. There are, of course, vastly complex historical circumstances that led to it. But that's is clearly what happened. If Stalin had values the lives of people more then he did his own power and his social vision, then he would not have allowed the half the stuff that was done. But of course he valued "people" in the abstract, "humanity" the "workers" that was his big rationalization for having power. He probably convinced himself he was doing it all for the good of the blessed Proloterians. But when push comes to shove he valued his vision more than he did the lives of real actual people. I just don't see how anyone could deny that. The DC guys want to cloud that issue with a mystification of a pretension to an erudition they clearly do not possess. They are never willing to make an argument, all they ever do is threaten arguments, and slough off arguments with promises "Its' in my file box. I just have time to read it." You debaters out there:
they are greasy and the slough arguments! BTW that answer doesn't cut the mustard in debate. The judge votes against you because reading the proper evidence is part of the game, not telling people to go read it latter.


The Stlain Purges where totally the result of a small band of elites around Stalin who took power for themselves and didn't care about the revolution. You want complexity, go read Leon Trotsky's
History of the Russian Revolution
(remarkably the whole text is on line)!
Trotsky was there. Of course he was an atheist. He was one of the major leaders,He commanded the Read Army in the war with the "white Russians" Stalin tried to have him killed. He started the Fourth International and was eventually murdered in Mexico by agents of Stalin. The also read his book
The Revolution Btetrayed
which is also online. You will see that it can all be boiled down to Stalin's bid for power. It is an oversimplification to say that all massacres boil down to someone's bid for power, but they do. That is a true statement it is not an oversimplification, just to leave out the messy complexity that led me to that conclusion. It is a true conclusion. That these guys can't see that points to their lack of erudition and their naive approach, their "them and us" mentality. John Loftus is bright and well read, but clearly he's as paranoid as I am. He just approached that essay as a total attack on atheists and I thought I was treating both sides fairly. The key sentence was the balanced statement about one side causing Crystal Night,The other causing killing fields.
I bring this up because it demarkakes the line that I am willing draw between who I block and who I do not block with. Those who would cast the aura of the sacred over their temporal projects, the right wing fundamentalists who confuse their own reading of the Bible with God's word itself, are setting society up for a crystal night, but those who would cut off any sort of higher meaning in the name of quantification are merely setting up a killing field.
The crystal Night allusion is a big concession because Hitler was not Christian and I do not believe Christianity leads to Nazism to any degree--but I have seen over and over again a too literal emphasis upon the trappings of
chruchanity
rather an a real living relationship with Jesus can lead to an almost fascist like approach.
The major point that is being hidden in all this, buried in their myopia is the meaning of this one statement which is the key to the whole essay: "those who seek to pull heaven down" well who would that be? Obviously the fundamentalists. Do atheists believe in heaven? No. They they believe they will bring heaven on earth through he end times? No. So obviously that refers to Christians in temporal power who lead to crusades, and such oppressive things as sacking Constantinople and so forth. If these geniuses of history who tell me I know nothing of history had any knowledge at all they would know Hitler was not a Christian and the Nazi movement was anti-Christian and was opposed by the true Christians "the confessing church." Of course atheists always lay that game, "anyone labeling himself as a Christian is a true Christian, any attempt to distinguish between one kind of Christian and another is the "no true Scotsman fallacy" (clearly they don't understand what that is). But they are so willing to distinguish between communists and ordinary atheists. When one points out the atheist atrocities they are always so quick to say "those weren't real atheist, those where communists." Do I hear bag pipes. Hout mon! for a than an tha! mindless hypocrites abound on all sides. So if these geniuses of history knew history, rather than try to stick Christianity with Hitler, they would turn to central America. The masacres in Guatemala were clearly and undeniably linked to a born again Christian (Reos Mont) who failed to see the Indians as humans but said "we are not killing humans we are killing demons." They killed them to the tune of over 100,000. Of course, even though that could be hung on a born again Christian its small potatoes compared to Hitler. Truth is the first causality of propaganda.
The meaning of that statement. The one side (fundies) causes problems becasue they try to impose their own view of the holy upon a world that they seek to control. They don't distinguish between their own human fallibility and it's lust for temporal power and the true will of God. The other side causes the killing fields and the point there is its becasue they have no transcendent value. They can't see the individual humans as being of inestimable worth, they see only that the only kind of value there is is temporal power and temporal value so they vest their social project with all importance and its worth any number of concrete human lives to obtain.There can't be anything of lasting eternal value so the only value there is is immediate temporal power. The true answer is Christianity itself, not the fundies version, not anyone particular brand, although we can find it applied in history. This is a historical fact I'm sure these giants of historicism would overlook, St. Augustan re valued the values of the empire. In so doing he established the notion that we must make a clear distinction between the eternal and the temporal. We cannot say that our social project is "the kingdom of God." We cannot make the Kingdom of God on earth. Temporal power will always belong to "the city of man." The City of God has a different end, and though ti exists on earth within the human city it cannot be made into the human city. The foundation of this point is his continuum of values. We love the eternal, we use the temporal. That means we distinguish between our understanding and God's work. We distinguish between our temporal power and God's power. We distinguish between our social project and God's eternal truth. We never vest our social project with the aura of the sacred. When we do that we sin, we make ourselves God. That's what the fundies did by turning the Charismatic movement into a right wing organizing tool. The corollary to this continuum of value is that human life is an end in itself. It is never treated as a means to an end.
Atheist utilitarian thinking treats human life as a means to an end. The individual must suffer for the greater good of the greater number. That is a violation of th is basic dictum of value of the individual. The individual is eternal. That means we love the individual we use temporal power to treat the individual as an end, an object of concern and aid not a means to achiving some future abstraction like "the workers paradise." That is why both sides are wrong, both sides can be dangers, and I have to oppose both sides. That was clearly the point.
Now honestly guys, if the "new atheists" can't figure this out, haven't the erudition to understand what I'm saying, what makes you think they know enough to crticize anything as complex of Christianity? These guys lambast me for simplistic thinking and reducing complexity. They reduce all of theology, of which they are read precious little, to utter simplicity. Clearly they are saying "atheism gooooo, Christianity baaaaaaaad." So who is really doing the simplistic thinking?