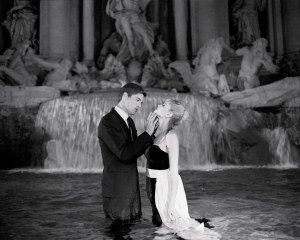 Filini';s famous fountian Scene
La Dulce Vita
(My review}
Victor Reppert brings up a piece he wrote on evolutionary theory undermining liberal humanist values. He reflects upon the work of
Dr. Yuval Noah Harari in discussing problems raised for humanism. Reppert's point is that liberal humanism cannot be militiaman by a Godless Society. I am not concerned here with bashing atheism, but with meeting a problem head on and weather through belief in God or belief in humanity, or whatever, confronting the problem. There is a problem even an atheist could agree.
Reppert Writes:
Perhaps some of the best-known words from our American heritage are the words from the Preamble of the Declaration of Independence: We hold these truths to be self-evident, that all men are created equal, that they are endowed by their Creator with certain Inalienable Rights, that among these are Life, Liberty, and the Pursuit of Happiness.




But, if you are an atheist, there is no Creator, so we couldn't be created equal. Advanced thinker that he was for his time,TJ seems to have imbibed some creationist nonsense. Hence to reflect what an atheist really believes, it would have to be rewritten as follows.

[1]
He Introduces
Harari:


Interestingly enough, this issue has been taken up by atheist Yuval Noah Harari. Vincent Torley takes up the issue in this discussion. Harari says that the statement form the Preamble must be revised in favor of this revision:
We hold these truths to be self-evident, that all men evolved differently, that they are born with certain mutable characteristics, and that among these are life and the pursuit of pleasure.


Hardly the basis of liberal humanism.




Torley then goes on to quote the following passage:


At the same time, a huge gulf is opening between the tentes of liberal humanism and the latest findings of the life sciences, a pull we cannot ignore much longer.

Our liberal political and judicial systems are founded on the belief that every individual has a sacred inner nature, indivisible and immutable, which gives meaning to the world, and which is the source of all ethical and political authority. This is a reincarnation of the traditional Christian belief in a free and eternal soul that resides within each individual. Yet over the last 200 years, the life sciences have thoroughly undermined this belief. Scientists studying the inner workings of the human organism have found no soul there. They increasingly argue that human behavior is determined by hormones, genes and synapses, rather than by free will – the same forces that determine the behavior of chimpanzees, wolves, and ants. Our judicial and political systems largely try to sweep such inconvenient discoveries under the carpet.

But in all frankness, how long can we maintain the wall separating the department of biology from the departments of law and political science?

[2]
The problem here really is an ethical one. Upon what do we hang our values? We cannot find them in science or in a literal application of scientific view of nature. Consider the declaration of independence supposed a bulwark of liberalism.
"Is there any objective reality, outside the human imagination, in which we are truly equal? Are all humans equal to one another biologically? Let us try to translate the most famous line of the American Declaration of Independence into biological terms:
According to the science of biology, people were not 'created'. They have evolved. And they certainly did not evolve to be 'equal'. The idea of equality is inextricably intertwined with the idea of creation. The Americans got the idea of equality from Christianity, which argues that every person has a divinely created soul, and that all souls are equal before God. However, if we do not believe in the Christian myths about God, creation and souls, what does it mean that all people are 'equal'? Evolution is based on difference, not on equality. Every person carries a somewhat different genetic code, and is exposed from birth to different environmental influences. This leads to the development of different qualities that carry with them different chances of survival. 'Created equal' should therefore be translated into 'evolved differently'.

[3]
Of course he understands "objective reality: to the hard and fast surface of existnece but the faciticity of existing nothing beyond that. This is what Tillich means when he says by saying existence is not merely the surface of existing and that being has depth. He bases the concept of equality upon a literal sense of how we turnout, of what nature gives us. He asserts that nature does not make us equal but only regards difference. Yet in so doing he has transposed the meaning of equality from a legal right to ability. He thinks the
Declaration
ascribes legal right to ability when it fact there's is no reason to think this. Probably Jefferson was not thinking of ability but of titles. Nature does not bestow titles man does. We are all born equal in the sense of Algeria accorded, and at first that privilege was not accorded, now it is. Now we see as a society that we need to expand our view. That still leaves us with a need of something to hang the vale on.
[4]
Harari is quick to assert the alleged Godless nature of modern society, This is something people hiave been countering since Harvy Cox in 1965.

[5]

The Secular city is overdone, we don't live in a secular city we still live in a society whose basic values are coasting on Christian memories. Harari is quick to insist there is no God and that the only source we have to seek from is the natural world"There are no rights in biology," So Haraari;s declaration has no equality clause. But e also never says why biology is our only recourse? He has no basis or ruling out other avenues of knowledge he has no real way of determining that the desire for equality the value of it does not spring from some thing transcendent. Notice he has to change the form of equality under discussion, from legal rights to ability,
He asserts that our only recourse is the "blind evolutionary process" He finds "
But 'liberty'? There is no such thing in biology. Just like equality, rights and limited liability companies, liberty is something that people invented and that exists only in their imagination. From a biological standpoint, it is meaningless to say that humans in democratic societies are free, whereas humans in dictatorships are unfree. And what about 'happiness' "

[6]

So then democracy is just done away if we assert that biology is the only basis for ideas, or ethics. Why should we so assert? Of we values that counter such assertions, and that view point leads to excusing dictator ship and rationalizing away freedom, we Harari has done.
Then he attacks happiness. He points to social research showing that people are still happy even at lower income are not necessarily any happier at higher income level. "
Most biological studies acknowledge only the existence of pleasure, which is more easily defined and measured. So 'life, liberty and the pursuit of happiness' should be translated into 'life and the pursuit of pleasure.'"

[7]
He has reduced the grandeur of American democracy to meaningless
Hedonism
.
I can't think why anyone would want to say these things having taken away rights and freedom it's not a declaration of independence anymore just a statement of fact,So needs it? Another problem worth reducing happiness to pleasure he rules out the reality of happiness on the flimsily excuse that one can always be happy apartment financial interests, But that admits that happiness is a reality so there is no reason to rule it out. I don't know if Harari is actually trying to establish biology as the standard or just demonstrating the insufficiency, It certainly does do that.
It seems clear we need a higher source to ground the axioms, The best version I've see apart from God,was actually proposed by a Christian, all be it a 19th century style theological liberal. This was Albert Schweitzer who tried to ground ethical axioms in the survival instinct but turning it outward connecting it through empathy to others
.[8]
That has the advantage of being rooted in biology and yet he wasn't able to attach an
ought
without assuming God. God is still the strongest basis for ethical axioms and for values but that doesn't necessarily narrow it to a particular tradition, One could connect my moral argument at this point,

[9]
Filini;s La Dulce Vita is the perfect image because it illustrates the emptiness of a sensitivities life style. There is a lot more to the concept of snappishness than just feeling good. Why this guy would put it on a level of economics any way is ridiculous,.
[1] Victor Reppert, "Why Evolutionary Naturalism undermines Liberal humanism," Dangerous Idea, blog. (
Monday, June 04, 2018
)
http://dangerousidea.blogspot.com/2018/06/in-one-of-my-first-posts-on-this-blog-i.html
(all sources accessed 6/4/2018)
[2] Ibid
[3]
Yuval Noah Harari, Sapiens, A brief History of Human Kind. New Uork NY:
Harper Collins Books , repriomt 2018 (original 2005),
8-10
[4]
Matt Brundage, "what did Jefferson mean by all men are create equal?"
Matt Brundage Publications. BLOG, 2018
https://www.mattbrundage.com/publications/jefferson-equality/
(all sources accessed 6/4/2018)

[5] Harvey Cox, The Secular City,

Princeton University Press; Revised ed. edition (September 8, 2013)
[6] Harari, op cit, 10.
[7] Obid
[8] J.:.Hinman, "Albert Schweitzer and the Death of Civilization", Negations" Negations An Interdisciplinary Journalism of Social Criticism, winter 1998
http://www.datawranglers.com/negations/
accessed 6/4/2018)
[9] Joseph Hinman, "the counter apologist attacks the moral argument," Metacrock's .blog (
MA
Y 29, 2016)
http://metacrock.blogspot.com/2016/05/the-counter-apologiost-attacks-moral.html
accessed 6/4/2018)