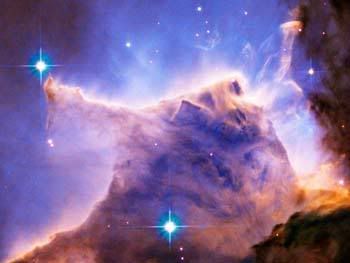 This is the best argument I've seen against fine tuning argument (FTA) the idea that God fine tuned the universe for life as evidenced by the huge improbability of life making it. The argume nt was made by a feriend who comkents on this blog,
Eric Sotnak
, in the comment section
On Secular Outpost
.[1]
This argument, together with the newly discovered probable life bearing planets means potential defeat for FTA.
Eric Sotnak
:
(1) If God wanted a universe that was finely tuned for life, we would expect him to bring it about in a manner (a) that would be efficient with respect to the desired outcome, and (b) that was causally guaranteed to bring about the desired outcome.
(2) The physical and temporal scale of the universe and the long line of causal requisites that our best science shows to have preceded the arising of life in the universe are extremely inefficient with respect to the desired outcome. (not-a)
(3) The quantum physical nature of universe (especially in its early stages) does not causally guarantee the desired outcome. (not-b)
(4) Therefore, it is not the case that God wanted a universe that was finely tuned for life.
Metacrock:
Using the inefficiency argument to make a reverse design argument has a lot more problems than you realize. The argumemt turns upon second guessing God both in nature and motivations. That never works."
The problem is that it doesn't work for the FT argument, either. Copernicus was smitten by the idea that all the planets were arranged so that their orbits corresponded to nested Pythagorean polyhedra. Such an arrangement, surely, testified to the glory of God. This is the same idea we find in the FTA. When better science falsified the nested polyhedra hypothesis, it's fair to say that no one said, "rats – so much for God, then." Instead, the elegance and economy of the Keplarian model became the wondrous proof of God's wisdom and the manner by which his hand could be seen at work in nature. If you're going to say, "this is evidence of God" no matter what you find, then it really isn't evidence of God anymore. If God's motives are so inscrutable that we cannot reasonably guess at them, then we can no longer take any observations as evidence that there must be a divine motive behind them.
Suppose that some of the physical constants had been found to be apparently incompatible with the development of complex life. Theists would trumpet this as proof positive that God had miraculously brought about such life despite the hostile physical conditions. Instead, we find that we live in a "Goldilocks" universe where the constants are juuuuust right. Theists cite this as knock-down evidence for God. Heads, I win. Tails, you lose.
Essentially the argument is that design arguments try to have it both ways, either the universe appears specially set up for life or aspects that seem to be hostel to life are overcome and that also is proof, So it's proof either way which means there's no way to tell. If everything counts for your hypothesis nothing can prove it because nothing could count against it, it's not proof. It's true that the conventional design argument has this problem. In other words we don't have a designed universe universe to compare, so the kind of argument that says "the earth is just the right distance from the sun so that looks like design" is fallacious,. We don't know what undersigned looks like.
The FTA has it over that conventional design argument because it has something to compare. We can compare the target levels to all that is not the target level. The problem is apologists screw it up by going back to the conventional kind of design argument and trying to argue both at the same time. FTA works for one reason and in one way: the more improbable it is that life would have made it the more it like a fix it is. We can't marvel at earth being at just the right place but we can marvel that there so many odds against life and yet there is life. We should forget Paley and forget the conventional design argument. don't say it looks designed, Just say too many chances against it to assume no fix.
What about Erick's argument about the scale and time frame, big universe existing for a long time before little bitty life, equals no sign of God? First we do not know that there hasn't been life for a long time, or that there is another earth-like planet with intelligent beings dealing with God in there own way. That doesn't have happen that much to make the point. The answer I tried to give above that he's taking on assumptions about the nature of God and God's motives. he says: "If God's motives are so inscrutable that we cannot reasonably guess at them, then we can no longer take any observations as evidence that there must be a divine motive behind them."
we don't have to know the motives we don't have to know the game plan to know the fix is in. Besides who says we don't know the motives I didn't s say God has not told us his motives. I said he doesn't know them.
Moreover, his argument is doing the same thing the conventional argument is doing. That is to say his argument about scales of time and distance is making the same mistake Parson's talks about of asserting comparison between designed and undersigned when we have no basis for comparison.
One final problem. The argument that everything can't count for design combined with the number of probable life bearing planets newly discovered really creates problems for the argument.

[2]
As if there wasn't enough excitement swirling around the discovery of a

potentially habitable

planet circling the star Gliese 581 just 20 light years away, one of the scientists behind yesterday's announcement upped the ante during a press briefing yesterday afternoon, declaring "my own personal feeling is that the chances of life on this planet are

100 percent

."

[

3]
Does this mean the end of the FTA? First of all any potential for life bearing other than earth will be seen as a defeat by many atheist because they assume any potential is the seed of evolution that could produce s universe teaming with life. But the problem is you might as well say earth itself is that seed. It's not logical to assume that nay potential is automatically a universe taming with life. The odds are still vastly against it. Secondly even if we know for sure of life on several other planets that would not that would not change the odds enough. We have to know the hit rate, It may be a judgment call as to what moves the marker from rare to common place, But it has to be more a handful.
Observations:
(1) FTA is still better argument than conventional design, don't argue conventional design!
(2) We don't have to know everything to know the fix is in
(3) have to know the hit rate per planet for life to survival before we assume there's no fix.
(4) argue abductively: best explanation
Sources
[1]
Eric Sotnak
,
, comment to post by Bradly Bowen, "Adamson's Cru[de] Arguments for God – Part 4," Secular OutpostMay 4, 2016, blog URL
[3] Clay Dilloow, "Odds of Alien Life on Newly Discovered Exoplanet 100%"
Popular Scie
n
ce,
September 30, 2010, onlime resource URL
addendum
Recent discoveries have indicated
that
there are thousands of earth-like planets out there. The Keck observatory observe (Nov. 3, 2013)
"
What this means is, when you look up at the thousands of stars in the night sky, the nearest sun-like star with an Earth-size planet in its habitable zone is probably only 12 light years away and can be seen with the naked eye. That is amazing," said UC Berkeley graduate student Erik Petigura, who led the analysis of the Kepler and Keck Observatory data.
"
i
That sounds like a real disproof of the fine tuning argumen
t
. Life bearing planets are so
plentiful
they orbit every fift
h
star.
That
's not exactly true. The study says Earth "size" planet. That doesn't necessarily translate into life-bearing: The team, which also included planet hunter Geoffrey Marcy, UC Berkeley professor of astronomy, cautioned that Earth-size planets in Earth-size orbits are not necessarily hospitable to life, even if they orbit in the habitable zone of a star where the temperature is not too hot and not too cold.
"Some may have thick atmospheres, making it so hot at the surface that DNA-like molecules would not survive. Others may have rocky surfaces that could harbor liquid water suitable for living organisms," Marcy said. "We don't know what range of planet types and their environments are suitable for life."
ii
i
Keck Observatory representative, "odds are on oodles of Earths," published by Jet Propulsion Libratory, California Insitute of Technology for NASA on "Earth Quest." Wesbite. Nov 4, 2013.