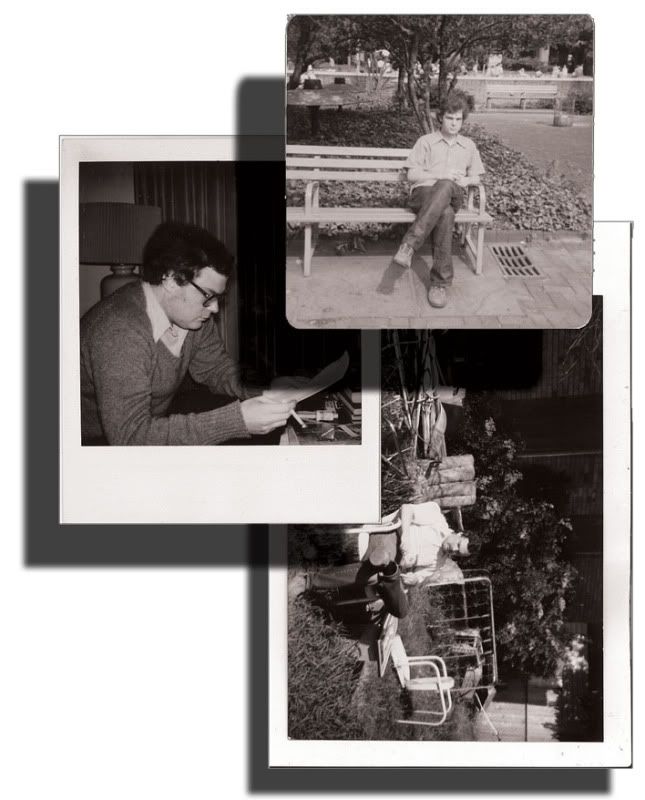 Ray Hinman: (1956-2014)
Born in Dallas Texas, along with his twin brother Joe, June 20, 1956. Their Uncle was James D. Harman noted "Beat" poet of the 50s and leader on the West Coast in the "ban he bomb movement." "Uncle Jimmy" as we was called as an influence upon his nephew's style of poetry, along with Wallace Stevens, Yates and Keats.
Hinman grew up in Dallas, he drooped out of R.L. Turner High school his sophomore year in order to receive his GED that same year. He lived on his own for a time, traveled extensively across the United states by hitchhiking. On one trip he went up the West Coast to Vancouver and another trip he went up the East Coast to Montreal. He also spent extensive time camping and living off the land in the American Southwest.
He attended The University of North Texas, studying anthropology. He was a major local organizing in the Central America Movement of the 80s. He worked as an editor for the Negations Institute and their Academic Journal
Negations.
Throughout the years he has published poems in many journals and other publications such as
Interstate
,
Well Spring
, the
Ameba
,
The Word
,
Fickle Muses
and other such publications. He's read his poetry in public in Austin and Dallas.
"The Ex-Missonar Learns Mexico,"
After the rain we came into the low
country, the hills unrolled beneath us,
pitted with aroieas, green aloe vera plants concealed basins where water stood;
hidden from high ground like secret lakes.
We climbed from our horses and looked into
a pond, our faces shining against sky
and cloud.
There is nothing holy about hidden things;
chance has it's own way of breaking monotony
as one mile slinks
into the dust of another, but in this place
(out of mill ions allover the desert)
what seemed so dry from the trail's rim lay entangled with fertil ity, floating
in a bath of sky.
For years I had learned the desert from train windows, it's beauty no more than swirl ing dust, but when our faces rippled over brown roots,
dark as cinnabar, shooting into leafy green ... the vistas around us rose in vapour and begged
for a drink, in the distance a vulture called, and hundreds of zacadas; the hil Is rose
above us like domes.
"the Shaman Considers His Craft."
Did I say footprints?
Did I say each puddle reflects a world? I use to see distinction in things other people instinctively ignore.
The bird in the bush could sing his door wide, and with windows
there to open
the wealth of those deeper places could catch the thrush's warble and gl itter white fire.
But then I got to naming things, and relating one thing to another.
The tracks for instance, no longer just a trail to follow, an extension or some place where the mystery of places might echo a brittle birth.
I had to know that beauty--decode it,
like a song. The thrush's song, the broken tracks, the I ittle brown splotch that is the bird upon
it's branch, it had to be a destiny, a metaphysic or sympathy breaking down haunted tomes ...
levels of Justice and fate.
I had to know what made the haunted real,
to know how these doors open, one into another so that bird sails freely
and his fire pierces through the bush, the puddles that are sl fck as sl iding glass,
and know much more than being carried by a song (his song from his landscape) into a scape not mine and not his.
And at that point, that beauty that became so brittle as I went downward
(through the landscape his beauty built into the scape not mfne and not his)
I missed the whole haunted meaning of fire and magic both.
And I was left there, as if I stood before a maze of bushes all grown with doors.
Read more of Ray's Poetry
Buy my brother's Poetry: Ray Hinman, Our Cities Vanish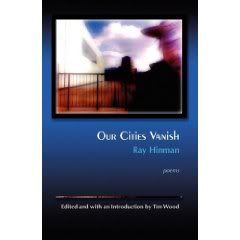 Click on image to Buy this book
Not religious poetry it's everything poetry. Highly literary.
come on look at it and see that's it's good!
I have a sample website for his poems here: you can find several examples on there.
Product Description