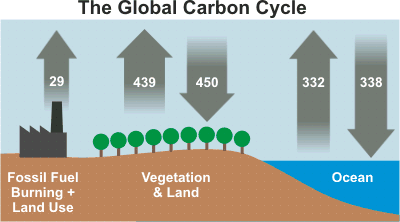 This graphic is from the Skeptical Science site
I hope they don't mind.
Friday is usually a light day on this blog. Just a quick note to fill in a gap from the previous piece.
Many conservatives admit we are expericing warming of the planet but claim it's a natural cycle or that we can't know if our contribution to green house gases is really enough to be the culprit. I think we just think rationally about we would see it must be. There's a good site called
Skeptical Science,
that deals with this issue. Warning, it says it's "getting skeptical about global warming skepticism."
industrial revolution

, the

CO2

content in the air remained quite steady for thousands of years. Natural

CO2

is not static, however. It is generated by natural processes, and absorbed by others.
this bit goes with the graphic above: Before the
As you can see in Figure 1, natural land and ocean carbon remains roughly in balance and have done so for a long time – and we know this because we can measure historic levels of

CO2

in the

atmosphere

both directly (in

ice core

s) and indirectly (through proxies).
But consider what happens when more

CO2

is released from outside of the natural

carbon cycle

– by burning fossil fuels. Although our output of 29 gigatons of

CO2

is tiny compared to the 750 gigatons moving through the

carbon cycle

each year, it adds up because the land and ocean cannot absorb all of the extra

CO2

. About 40% of this additional

CO2

is absorbed. The rest remains in the

atmosphere

, and as a consequence, atmospheric

CO2

is at its highest level in 15 to 20 million years (Tripati 2009). (A natural change of 100ppm normally takes 5,000 to 20,000 years. The recent increase of 100ppm has taken just 120 years).
Human

CO2

emissions upset the natural balance of the

carbon cycle

. Man-made

CO2

in the

atmosphere

has increased by a third since the pre-industrial era, creating an artificial forcing of global temperatures which is warming the planet. While fossil-fuel derived

CO2

is a very small component of the global

carbon cycle

, the extra

CO2

is cumulative because the natural carbon exchange cannot absorb all the additional

CO2

.
The level of atmospheric

CO2

is building up, the additional

CO2

is being produced by burning fossil fuels, and that build up is accelerating.
So the balance remained for remained in balance, even there were times when climate changed naturally. In time of the Dinasours the earth was warmer than now. In the time of ice age it was much colder than it is now. It seems the Tipping point is that we began interjecting sources that did not balance. Natural source give and take corban dioxide, such as trees.
there's much more on that site so please look at that page