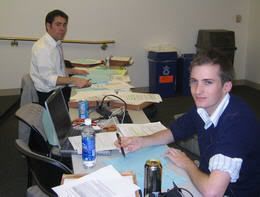 File footage of college debaters
Robin Yergenson is an atheist on CARM who always puts up
a thread
asking for "an honest Christian to discuss with him." He doesn't get involved in other threads much but jsut sticks to that one thread driving home his argument. He doesn't do the mocking thing like so many of them, and hating long threads as I do, I decided to answer him here. He says:


I have been trying to get intellectually honest Christians to engage in a meaningful way (no heckling please). Here is the argument that I would appreciate intellectually honest engagement on:
Implies that most Christians are not intellectual or honest. I'll let that pass as it's half right (most are not intellectual--most of any group is not intellectual).
He states:
"Christianity can be shown to be false by demonstrating the contradiction that exists in two of its most fundamental tenets, namely:"
a) The claim that escaping God's judgment to all mankind prior to and independent of any actions of our own requires belief in Jesus' resurrection.

b) The claim that God is just (that He renders that which is due).
Statement a is a rough approximation dependent upon how literalistic one cares to get. There are those who try to say that accepting on faith is a "work" and requires us to "do something." I always think that is semantics and kit picking. If that's the source of his contradiction he's just imposing a Calvinist spin on all the faith. He goes on:
The following logical progression demonstrates the contradiction:
1. As rational beings, our success at arriving at an accurate knowledge base for guiding our choices and actions correlates to a great degree with our ability to be rational, in particular, to correctly associate and integrate effects with their causes. This is what rational beings ought to do.

2. Since a supernatural/miraculous cause is a cause that is not constrained by natural preconditions (natural laws, causal chains, etc.), miracles are in principle always a possible cause for every event or existent yet, erroneously appealing to the miraculous as a cause can have devastatingly adverse consequences which we ought not do.

3. To avoid adverse consequences, we ought to believe in miracles only when it is justified and rational (for example, when the miraculous event can be demonstrated on demand and when it can be shown that a natural explanation is not at least a possibility).

4. Concluding miracles as a cause prior to it being justified is in effect allowing a belief in miracles to erode and undermine rationality, and is therefore unjustified, irrational, and immoral (acts that one ought not do).

5. Therefore, a God that requires rational beings to do what is unjustified, irrational and immoral in order to escape His judgment is an unjust God, and a God who also eternally torments all those who fail to do so is an extremely unjust God.

6. Further, this injustice does not depend upon whether or not arbitrary belief in miracles is in fact irrational, unjustified, and immoral or not. A God that requires rational beings to do what they genuinely consider to be irrational, unjustified, and immoral and who eternally torments all those who fail to do so, is an extremely unjust God.
On the surface this sounds like a logically well thought out objectionable but it's actually based upon circular reasoning. It's not valid logically to assert that it's a contradiction because it doesn't contradict internal principles of the faith but mere clashes with principles he is imposing from outside the faith, ie his own opinion. The charge that it's contradictory merely falls apart ton the grounds that it's not a true contradiction with itself but merely with what he believes already. I suspect this is what most atheists really mean by "contradiction." Let's exampine each step to see that this is true:
(1) If read carefully this is actually a tautology becuase what it really says is "rational people should be rational." We are going to find that what he really means by rational is observing his concepts and rules of interpretation. This is what makes his argument circular in nature, his premise rests upon his conclusion because he defines his criterion of "reason" by the conclusion that his views are right. He's in effect saying "a rational person will agree with me, Christianity doesn't agree with me, therefore Christianity is not rational." I'll show this as we go through ech step.
(2)
erroneously appealing to the miraculous as a cause can have devastatingly adverse consequences which we
ought not
do.
Of course this is also circular since if God is real and Jesus' death is true doctrine then God would be the determiner of both rationality and the truth of miracles, not us and not Yergensen. He says that miracles are not constrained by physical conditions but they are. This is allowed by the will of God, but they are so constrained. This is so becuase miracles are not just wild events that can happen any old time, they must be in line with God's and God's timing, they don't contradict the nature but merely impose a higher order which the natural is predisposed to obey. This is what is meant by "ground and end of the natural." See Eugene R. Fairweather, "Christianity and the Sueprpntrual"
New Theology no One
, ed Martin E. Marty, 1964. God is the source of all reason. God's timing for supernatural effects (miracles) are not based upon irrationality.
He states: "miracles are in principle always a possible cause for every event or existent..." I deny that assertion and it seems unsupported. That's like saying our being wrong about the nature of the universe is always a possibly, therefore, all theories about the universe should be considered untrue. All he's really arguing is that we should have a prmia facie reason for arguing form sign in favor of miracles.That's fine. There is no problem with that, but once having accepted the Principe that God is real and can alter the course of the natural at any time we don't have to keep proving it again and again every time we wish to assert it. We assume that not every occasion will be chalked up to miracles and to make that assertion for any given occasion requires a warranted analysis.
(3) This basically says what I just said, only believe in miracles when conditions of explainable warrant. I agree with that in a given case but on the proviso that any given case could be such a case based upon the warrant.
(4) he says that if we believe in miracles without warrant it erodes rationality. I suggest first that this an attempt to impose his ideologically driven definition of rationally upon belief. He's essentially saying "rational means agreeing with my world view, my wolrd view rejects miracles, therefore it's not rational to believe in miracles." I think this is what he's really driving at because unless he's willing accept the possibility of miracles as a principle then he's never going to accept any warrant for belief in miracle in any given situation. All appeal to miracles will always undermine rationality. This is what I mean by circular reasoning:
(a) miracles don't' happen becuase they undermine rationality
(b) we know they undermine rationality undermine rationality
because they don't happen.
(c) all previous evidence for miracles must be set aside becuase it can't prove miracles because there is no evidence to prove miracles, since that would be irrational.
to say it another way: we know miracles are false becuase they are irrational, and we know they are irrational because they are false.
(5.)
Therefore, a God that requires rational beings to do what is unjustified, irrational and immoral in order to escape His judgment is an unjust God, and a God who also eternally torments all those who fail to do so is an extremely unjust God.
This one takes circular reasoning to the level of an art form. He's saying miracles are irrational so a God that would require belief in irrational things is bad. Belief in miracles is only irrational if miracles are untrue, miracles are only untrue if there is no God. If God is real then God is not requiring something irrational by teaching us that miracles are real too. Agin he's only imposing his own opinions in a truth by stipulation then using that (what should be a conclusion)as the basis of his premise.
That is circular reasoning.
Conclusions are to be rested on premises, not vice versa.
(6) Just says if God requires me to believe in things I don't believe then he's bad, he's unethical and thus if God is unethical he can't be real. If God is real then miracles are real so he's not requiring us to believe in falsehood but in truth. The rejection miracles is not a moral move but a self indulgent one. Now raising circular reasoning to an art form here is the grand circle of this argument:
God can't be real because if he is then he must be unethical. God is unethical becasue he wants me to bleieve in something that is unethical to believe in because it's upon belief in untrue things. Therefore God can't be real because if he was he would be unreal since he's unethical,.
the problem is if God is real he's not unethical because the ethical thing would be to accept truth. The premise (God is unreal) is based upon the conclusion (that God is unreal). In reality belief in Jesus as the source of one's salvation is not based upon the assertion that any and all natural causes could be miracles but only one miracle, the resurrection of Christ, maybe two if we include the incarnation. If we accept a heretical adoption theology then we only need one miracle (res) and if we make the resurrection symbolic then Christianity doesn't require any miracles. Therefore, he's not dealing with real contradiction that set Christian belief in opposition to his own premises. He's merely asserting privilege for his own that he hasn't' earned through logic.
Since such faith systems claim that God requires just such irrational, unjustified, and immoral belief and since they also claim that God is just, an internal contradiction exists within their fundamental tenets demonstrating them to be false systems which none of you should be holding to.
It's only that if it's not real. Since faith in God is a matter of understanding reality, then belief = assumption of God's reality, which invalided the ethical clauses in the statement: Belief in God is not irrational, unjustified or immoral if it's true. But he's basing the truth of it upon the assertion that belief in it is those things, irratioinal, unjustified, that's assuming his premises not proving them it's assuming them! His only proof that this is the nature of the cause is his assertion that if they were true it would be unethical to believe. He then asserts that it is and use that as the crux of the unethical belief. That is so circular he's chasing his tail.
It cannot in principle be unethical or unjustified to believe the truth! If God is real then God is truth. If God is truth it can't be unjustified to believe in truth. It can't be unethical to believe in truth. When one places trust in God and accepts belief one is accepting the realist of God. No one believes in God thinking God is false.
I know that truth matters to you all. It matters to me too, deeply. I hope we can take advantage of the opportunity that exists between us to expose the error.
If truth really mattered to him deeply as he claims wouldn't he be considering the reality of God yes or no, up front rather than seeking na excuse to rule God out of the equation based upon privileging his position of doubt? All this circular reasoning can't really be understood as very rational. He's the one advocating irrationality. 5 and 6 are basically basically just begging the question. The only proof he ever advances for his assertions is the potential of the unethical nature of requiring belief in falsehood, yet that's the reason for thinking it's false it's just begging the question rather than proving it false.
This circuital trick is rampant all over atheism. All atheists are basically making these same assertions.