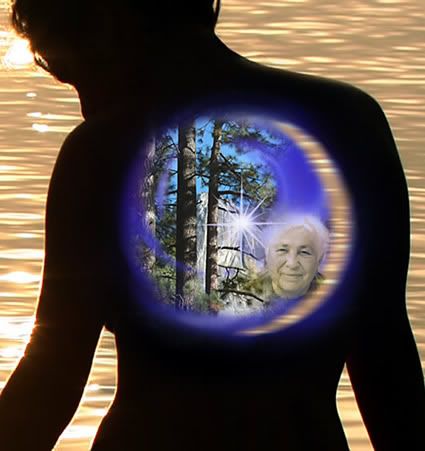 One of the arguments that I make and of which I am most proud (I really believe God showed it to me) is my soteriolgocial drama. That is my version of the free will Defense. Why does God allow evil, pain,and suffering? It's because we have to have free will and means we run the risk of wrong choices and wrong choices lead to evil, pain and suffering.
My argument
is a bit different than the conventional one because turns on the idea that we have to have the sort of world in which we live, one where we must search for truth in our hearts, because that's the only way to internalize the values of the good. Here's a run down on the argument:
Basic assumptions


There are three basic assumptions that are hidden, or perhaps not so obivioius, but nevertheless must be dealt with here.

(1) The assumption that God wants a "moral universe" and that this value outweighs all others.


The idea that God wants a moral universe I take from my basic view of God and morality. Following in the footsteps of Joseph Fletcher (Situation Ethics) I assume that love is the background of the moral universe (this is also an Augustinian view). I also assume that there is a deeply ontological connection between love and Being. Axiomatically, in my view point, love is the basic impitus of Being itself. Thus, it seems reasonable to me that, if morality is an upshot of love, or if love motivates moral behavior, then the creation of a moral universe is essential.


(2) that internal "seeking" leads to greater internalization of values than forced compliance or complaisance that would be the result of intimidation.

That's a pretty fair assumption. We all know that people will a lot more to achieve a goal they truly beileve in than one they merely feel forced or obligated to follow but couldn't care less about.

(3)the the drama or the big mystery is the only way to accomplish that end.

The pursuit of the value system becomes a search of the heart for ultimate meaning,that ensures that people continue to seek it until it has been fully internalized.

The argument would look like this:


(1)God's purpose in creation: to create a Moral Universe, that is one in which free moral agents willingly choose the Good.

(2) Moral choice requires absolutely that choice be free (thus free will is necessitated).

(3) Allowance of free choices requires the risk that the chooser will make evil choices

(4)The possibility of evil choices is a risk God must run, thus the value of free outweighs all other considerations, since without there would be no moral universe and the purpose of creation would be thwarted.


This leaves the atheist in the position of demanding to know why God doesn't just tell everyone that he's there, and that he requires moral behavior, and what that entails. Thus there would be no mystery and people would be much less inclined to sin.

This is the point where Soteriological Drama figures into it. Argument on Soteriological Drama:


(5) Life is a "Drama" not for the sake of entertainment, but in the sense that a dramatic tension exists between our ordinary observations of life on a daily basis, and the ultimate goals, ends and purposes for which we are on this earth.

(6) Clearly God wants us to seek on a level other than the obvious, daily, demonstrative level or he would have made the situation more plain to us

(7) We can assume that the reason for the "big mystery" is the internalization of choices. If God appeared to the world in open objective fashion and laid down the rules, we would probably all try to follow them, but we would not want to follow them. Thus our obedience would be lip service and not from the heart.

(8) therefore, God wants a heart felt response which is internationalized value system that comes through the search for existential answers; that search is phenomenological; introspective, internal, not amenable to ordinary demonstrative evidence.


In other words, we are part of a great drama and our actions and our dilemmas and our choices are all part of the way we respond to the situation as characters in a drama.

This theory also explains why God doesn't often regenerate limbs in healing the sick. That would be a dead giveaway. God creates criteria under which healing takes place, that criteria can't negate the overall plan of a search.
So the pivotal point is this bit about internalizing the good. That's one point that atheists steadfastly reject. Why do we need to internalize values? What does it mean to internalize values and so on? Of course it means that when we internalize values we really believe them. They are our own, we taken into our psyche's and we make them ours because in internalizing we really get to know them. We have to defend them and think them through we come to really know them. What are values of the Good? Love, forgiveness, reciprocity, compassion, to name a few.
I have now found a study that links internalizing values with meaning in life. International values is a means of transforming one's life and moving into a position of growth, progress, and personal enlightenment.
Loretta Do Rozario's hermeneutic Phenomenological study of those with disabled people indicates the value of peak experience or self transcendence, the transformative power of religious experience. The study was conducted as serious of interviews with respondents chosen for disabilities and hardships that they faced (more about the mythology in chapter four, "studies"). The study proceeded based upon two major procedures, analysis of interviews done with respondents and autobiographies the respondents wrote. The findings indicate a set of over all strategies and paradigms that people use to enable them to move forward and survive and deal with their conditions. The major results show that the states of hardship and joy can coexist in the same life at the same time but these depend upon strategies. Mystical experience is not a panacea through which all problems vanish just because one has this experience. But the study does show that the transformative power of religious experience as a whole and mystical experience in particular, is a vital and integral part of making the strategies work. The sense of spiritual unity involves transcendence of the self, thus making suffering bearable. Spiritual awareness (which is clearly an aspect of experience) fosters hope through belief in some greater aspect such as the divine or a cosmic force; religious assurance as a value of traditional beliefs; religious experience along with rituals provides order and meaning; adds to the sense of an existential journey in which the sufferer is growing and progressing, and the idea of purgatory enables one to separate oneself from suffering.
The findings of this study put the experience of having an illness or disability into an overall context of a person's universal search for meaning and self transcending. This can be likened to Victory Frankl's belief, based upon his experience of living in a Nazi concentration camp, that 'suffering ceases to be suffering in some way at the moment it finds a meaning…and that through suffering one is given a last chance to actualize the highest value to fulfill the deepest meaning…' People in this study concurred with this personal and contextual interpretation of illness and disability, by reaffirming that the process of meaning making was similar to that of the mythology of the hero and heroine's journey, which depicts a universal journey from a separation of self to a return to 'true self…' The inner awareness of wholeness despite all the odds points to an implicit experience of life which can transcend form and matter. This experience of wholeness or consciousness extends and challenges the view of disability and illness as only a meaning making and revaluing opportunity in the lives of people. Instead, the model of wholeness and reconstitution point to the possibility of an implicit order of consciousness or wholeness in which people who have undergone some crisis or critical incident in their lives may be able to access and experience a 'deeper reality' or 'flow' in life…similar to the insights of the great religions (author points to social psychologist Csikentmihalyi).
Thus the "shared" aspect of the experience is not in terms of physical navigation the world, not shared perception of objective objects, but the "inter-subjective" similarities of navigation in life. RE is an integral aspect of the spiritual and psychological wherewithal that we all need to "make it" to bear up under the material trammels and horrific disappointments and tragedies that life brings our way. Just as the same kinds of experiences, the same emotional and para-senstory features are experienced by people the world over so the same coping ability and meaning and journey to wholeness is also experienced through RE.
This is the important bit:
and that through suffering one is given a last chance to actualize the highest value to fulfill the deepest meaning…'
What that says is that through suffering, though living in the kind of world in which we live, we internalize the values of the good (higher values) and through that process develop a sense of personal fulfillment, growth and transformation.
This study has triple impact for three of my arguments:
(1) For the soteriological drama
it proves the validity of internalizing the values of the good. It shows hat living in the kind of world we have internalizing the values is the upshot. This demonstrates the justification for this sort of world. We have to have it in other to make spiritual progress. Of course atheists will argue God can just create us that way but that's not the case. We have to go through this process or it's not
Us learning!
That's like a little kid wishing to be an adult instantly; if the wish was granted he wouldn't have any experience of growing up and learning for himself.
(2) Religious experience arguments.
Demonstration of the life transformational nature of religious experience. That far outstrips any rival experience atheists offer.
(3) Arguments about sin in heaven.
At times they argue, will God allow sin in heaven? The theory is that if we have free will we can sin in heaven, and of course we would want to. But this disproves that nonsense because heaven is only made of people who choose to be there. since they will have experienced this internalizing values of the good the wont want to give up their progress and return to the infantile state of sin.